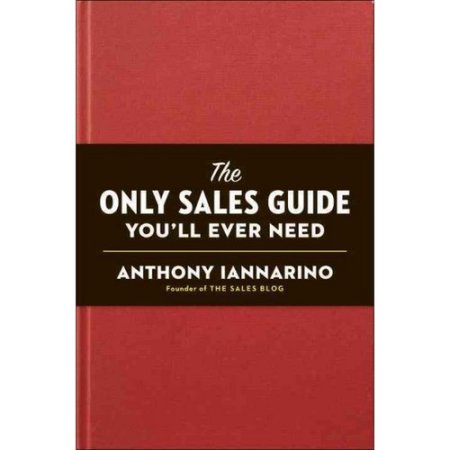 Anthony Iannarino's career has combined the best traits of a salesperson, teacher and writer, so it's no wonder that his first book, The Only Sales Guide You'll Ever Need, can be read by all for both pleasure and profit.
I say "all" because the advice contained in this book can help you whether you are just starting in sales or have more years of sales experience than you care to count. Beginners can benefit by adopting the right mindsets early and by honing their skills over time, while old dogs like myself get a much-needed reminder and kick in the pants to get back to things we thought we knew.
The first half of the book focuses on mind-set, or the beliefs and behaviors that characterize successful salespeople. Anthony addresses ten of these mind-sets, including self-discipline, caring, persistence and accountability. One might argue whether some of the mind-sets, such as optimism and caring, are inborn traits that are very difficult to change, but even there Anthony goes beyond telling you they're important—he provides checklists and advice for developing them if you're falling short.
The second half of the book is all about skill sets, and these are definitely areas where even those of us with a lot of experience can find room for improvement. From closing to prospecting (yes, you read that right: for Anthony, closing comes before prospecting—but you will have to get his book to find out why), to negotiating and business acumen, the skills you need to succeed at complex B2B sales are here. As you read each chapter, it's clear that Anthony's ideas are based on real—and most likely painful—experience. For example, he cautions against the commonly dispensed advice to call as high in the organization as possible. He reminds us that "You may be presenting to the C suite, but I promise that you will be executing further down the organizational chart, where the ground truth lives."
I love that phrase: the ground truth. That's exactly what Anthony tells the reader in every page.
As an author of three sales books[1] myself, I could easily quibble with the title of Anthony's book, because there are a few areas about sales that Anthony does not write about in his book. But then I'm reminded of what happened to Winston Churchill. As a boy he was held back from the smarter boys in his class and made to focus exclusively on English—and we know how that turned out. He wrote:
"Naturally I am biased in favour of boys learning English. I would make them all learn English: and then I would let the clever ones learn Latin as an honour, and Greek as a treat. But the only thing I would whip them for is not knowing English. I would whip them hard for that."
This book is like learning English. It's packed with exactly the right lessons that you need to succeed in sales. In that sense it is the only guide you would ever need. If one of my kids were going into sales—this is the first book I would have them read. They could always read mine later—as a treat!
[1] Full disclosure: Anthony proved me an advance copy and also includes my book Bottom-Line Selling in his recommended reading list at the end of Chapter 16.