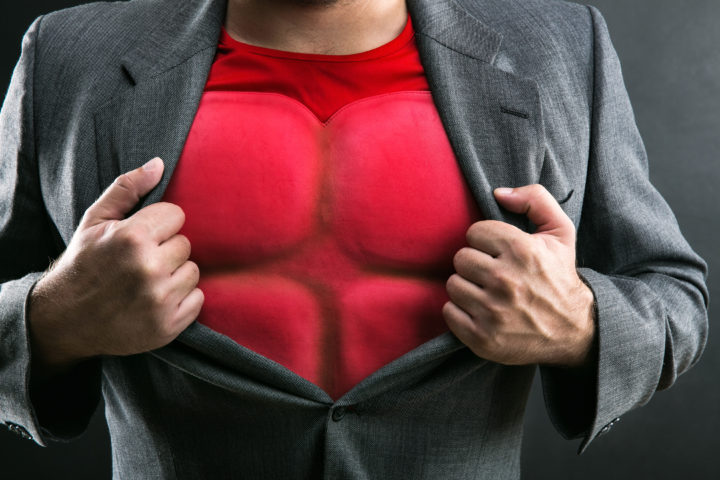 The level of confidence that you display to others can have a huge impact on your credibility and persuasiveness, but what people see is only the tip of the iceberg. While others only see what's above the surface, that visible portion is hugely influenced by what's beneath: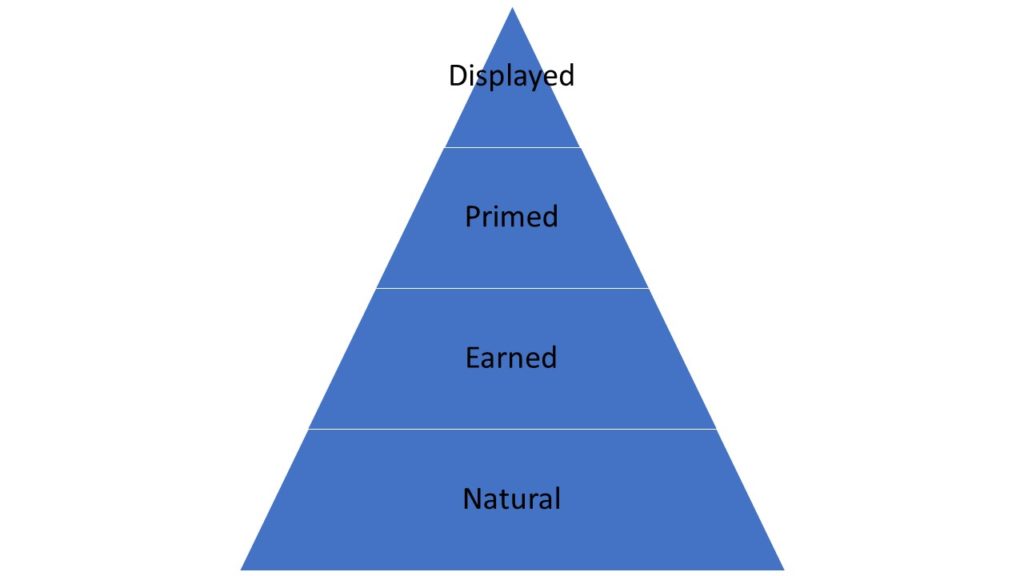 How much of what's beneath the surface is under your control?
Natural Confidence
Some people are simply born with more confidence than others, a fact which is obvious when you compare your friends and acquaintances. They blithely charge ahead in situations where others may hang back, seemingly sure that they will get what they want regardless of the situation.
It may seem unfair, but often that confidence becomes self-fulfilling and self-reinforcing, for two reasons. First, by daring more, naturally confident people tend to win more (as long as they avoid catastrophic misjudgments), which of course confirms and reinforces their confidence. Second, the positive feedback loop is also fueled by the increased confidence of those who surround them.
It's also backed by science; a recent study involving twins determined that self-confidence is at least as heritable as IQ, so there is clearly a "nature" component to confidence. Being extraverted also helps; being comfortable around other people and being the center of attention is a head start.
But we're not going to spend any more time on the natural sources of confidence here, because you don't get a Mulligan on choosing your parents. We'll focus instead on what you can do to create and build on whatever you have naturally.
Earned confidence
Earned confidence is the most important factor under you control. It comprises two parts, general and specific. General confidence is that which you develop through your life experience and achievements, your status within the group, and your learning. You can increase your general confidence by continuously learning, building up your general competence, and successfully facing your fears by exposing yourself to stressful situations.
Specific confidence is what you have in a given situation, earned by ensuring that you have sound content and competence for that topic, that audience, and that time. When you thoroughly know your topic and you're pretty sure you can get the other person to agree with your point of view, how can you help but feel confident? Being also promotes confidence, because the discipline and effort you put into clarifying your message will boost your confidence in that message, and in turn boost your listeners' perception of your credibility.
Probably the most succinct statement of specific earned confidence is what Davy Crockett wrote on the title page of his autobiography: "Be always sure you're right, then go ahead."
Earned confidence is absolutely the most important layer of all, because it is completely in your control and it is the hardest to shake, even in the most stress-filled or intimidating situation. As Elaine Chao said, "Expertise empowers."
If you are blessed with natural confidence and have prepared extremely well, you can stop reading now. But if you need just a little more of a boost, here goes:
Primed confidence
Even with a clearly-earned right to complete confidence, it's still possible to be nervous despite yourself. Your conscious mind may know there's nothing to fear, but your unconscious mind may not have gotten the memo. Besides, you can have a strong conviction that you are right and still feel a lack of confidence in your ability to get others to buy into your point of view, or you may have pre-speech jitters despite your solid grasp of your material.  It's completely natural to feel anxiety before a high-stakes meeting or big speech, and it's just as natural to misinterpret that stress as a bad thing.
So, you may also need to get your head straight by priming your confidence level. Priming means getting yourself into the proper frame of mind to increase your felt confidence level. It prepares your unconscious mind to direct your behaviors when you speak to others, which saves you from having to spend your precious mental bandwidth thinking about your outward behavior.
This is where the psychology gets interesting. Your state of mind can influence your bodily behaviors, including posture, movement, gestures and facial expressions. But it also works in the other direction: your bodily behaviors can also influence your state of mind. Your feelings affect your actions, but your actions also affect your feelings. In fact, at any given moment, you are subconsciously reading your own body language to infer how you feel!
So, there are two general ways to boost your confidence before the meeting. You can prime your mind by changing your body, and you can prime your body by changing your mind.
Changing your body. It's called embodied cognition: your mind takes cues from your body to help it decide how you are feeling. For example, studies have shown that simply clenching a pencil in your teeth, so that your lips are forced upwards, can make cartoons seem funnier.[1]
More importantly, acting confidently, such as taking up space and adopting "power poses", can make you feel more confident. Doing this before your important talk boosts your confidence and actually carries over into the actual situation. Amy Cuddy and her colleagues found that the mere act of adopting a power pose for just two minutes raised testosterone levels and depressed cortisol in their test subjects. The former is associated with dominance and power and the latter is associated with stress.
They also found in a different study that subjects who adopted power poses before mock interviews were rated more highly and were more likely to be "offered the job" than those who put themselves in a closed, low power position.[2] The subtle part of the study is that there were no observable differences in behavior between the two groups during the interviews – but somehow they projected a more confident and assertive demeanor which translated to more credibility.
A power pose is one in which you open up and take up space. Stand with feet spread and place your hands on your hips with elbows out, or place both hands on a desk, more than shoulder-width apart. You can even do it sitting down; if you can get away with it, place your feet on a desk and lean back with your arms behind your head.
The important point in all of this is that you want to be fully "on" before important communications, and just like an old-fashioned vacuum tube television, you need a short warm-up period to get there.
Changing your mind. Take a minute to think back to a time when you spoke to a room full of people and you really rocked. You were totally on top of your material, you were confident and articulate, and you felt the almost scary power of having every single person tuned carefully into what you were saying. Can you picture the scene, maybe remember what you were wearing, or how you sounded? It felt good, didn't it? You're probably sitting up a little straighter and smiling a bit right now.
Now, imagine going through that same thought process before an important meeting or presentation. If you've already earned the right to be confident, it will be like lighting the afterburners on your confidence. You will feel much more confident, you will project that to the room, and your credibility will soar.
The process we've described is called priming, which means getting your mind into the right state before your performance. Actors do it – the best actors aren't faking the emotions they show, they are actually feeling those emotions because they have gone through what's called an "offstage beat", in which they primed their minds to feel the right emotion for the scene.
There's another equally important benefit to this. You can only feel one emotion at a time, so focusing on the right emotion will keep you from obsessing on the wrong emotion, the fear you feel before the speech.
What emotions do you want? I personally like to focus on the thrill of giving my listeners useful information that can make their lives better. Jack Welch used to prepare so much for some outside speeches that he would work himself into feeling that he could not wait to share his ideas. Think of a time when you had exciting news that you could not wait to share with someone. (In my case, I recall the time when I called my son at school to tell him that the mailman had just delivered an acceptance packet from his first-choice school.)
The great thing about priming excitement is that it feels very similar to anxiety, so it's an easy step from one state of mind to the other.
Besides priming your mood, you can also benefit by channeling your focus. Confidence and charisma are closely related, and communication expert Nick Morgan tells us that charisma is simply focused emotion. Emotions are contagious, and someone who clearly feels an intense positive emotion is going to pass that on to anyone listening. If you can achieve that intense focus, you are going to appear supremely confident to others.
In my next post, I will focus on the visible part of the iceberg: the speech patterns and body language that affect your displayed confidence. But, if you haven't earned and/or primed your confidence before you start, you have probably already lost.
[1] Dave Munger "Just Smile, You'll Feel Better!" Will You, Really? http://scienceblogs.com/cognitivedaily/2009/04/06/just-smile-youll-feel-better-w-1/,
accessed May 16, 2014.
[2] Amy J.C. Cuddy and Caroline A. Wilmuth, The Benefit of Power Posing Before a High-Stakes Social Evaluation, Harvard Business School Working Paper, 2012.