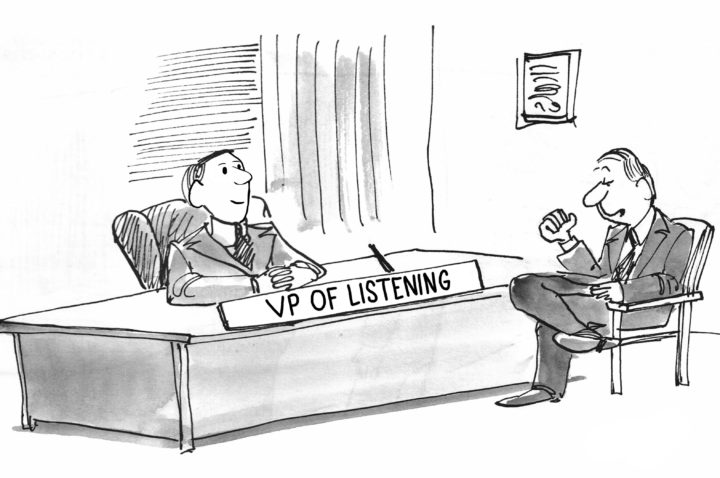 I love sales questions. In my training classes, I urge B2B salespeople to ask more questions, and I teach them ways to get the buyer to open up about their problems, opportunities, challenges and risks, and to get mutually involved in devising a solution. Questions are one of the most powerful sales tools you have.
But sometimes you can fall in love with a tool and overuse it, losing effectiveness and efficiency as a result. What's the problem with too many questions? You run the risk that the buyer may feel too "led" or even manipulated, or at least not feel like they have been listened to. And, because you are so good at using questions to uncover what you're looking for, you may close out opportunities to discover what you're not looking for.
The most efficient and effective sales call I ever conducted took place in a boardroom in Atlanta where I met with a company's SVP of Worldwide Sales and several of his direct reports. I had barely set the stage with my value proposition when he cut me off: "Let me tell you what I want", he said, and launched into a 60-minute soliloquy about his sales force and its struggle to adapt to a changing market. My participation consisted mainly of nodding, interjecting an occasional probe, and trying to take good notes. By the time he was done, George had answered every question in my sales call plan, I had checked off every one of my call actions, and we struck a deal on my largest sale to date.
If there is such a ratio as revenue per word spoken, it was easily the best sales call I've ever made. It flowed from start to finish, and the best part was, the sale was completely the customer's idea! It reminded me of Napoleon's advice to "Never interrupt the enemy when he is making a mistake", except in this case it's "Never interrupt the buyer when they are selling themselves." By staying out of his way, I let George have my way.
That call was extreme, of course, but it is definitely worthwhile to strive to talk less and sell more. Good salespeople accomplish this by asking more questions; great salespeople do it by asking fewer but better questions, and by going beyond questions to achieve a similar flow.
How does achieving that flow help you sell? First, people like to talk about themselves, so once you get them started, you may create a momentum of self-disclosure which can produce broader and deeper insight into their needs. Second, people like to feel important, so by being in charge of the conversation (or at least feeling like they're in charge) can make them feel good. Finally, when they tell you the story you want them to hear, they own it, and they're much more likely to stick to their commitments.
How to encourage conversational flow
Conversational flow doesn't just happen; you can stimulate your customer's willingness to talk by what you do before and during the call.
Before the call
Avoiding too many questions during the call does not mean skipping questions altogether during your preparation. The research and planning you do will help earn the customer's trust without which they won't open up. Besides, it's the only way to know if the customer's conversation is producing the answers you need. By knowing what you need from the conversation, you will have all these mental hooks on which to organize the incoming information.
It also does not mean that you should strive for a stream-of-consciousness type of flow, in which you get the customer to talk about anything that enters their mind. The most effective sales conversations have a particular structure—even if it's not obvious. That flow is the SCR story structure: They begin by describing their situation, bringing out their conflicts, and arriving at a resolution.
During the call
There are two general ways to encourage the customer to take control of the conversation and run with it. First, you motivate them to talk and set the frame by carefully planning your call opening, and then you use following skills to encourage and channel the flow.
The first few minutes of the sales call are crucial to achieving conversational flow. Your goal is to get the customer eager to talk about what you want them to talk about. For this, you have three tools: value proposition, action statement, and agenda.
Your value proposition and action together deliver the lean communication imperative of ATQ: Answer the Question. In every meeting, the customer/prospect wants to know: "What do you want me to do, and why should I do it?" By being very upfront about it early, you dispel suspicion and jointly agree on the reason for the meeting. In the unlikely case you're wrong, the customer will let you know immediately and you will have an opportunity to reset or pivot as necessary.
If the value proposition and action together set the destination, your written agenda is the road map that structures the conversation. In most cases, you're going to be very explicit, even to the point of enumerating and explaining the agenda items and offering to add any issues they might have. I would estimate that a third of the calls I go on, I rarely need to use direct questions, because the customer sees the logic of the structure and willingly participates.
Even if the customer takes control and follows their own agenda, your effort hasn't been wasted. When George began talking, I did not interrupt him; I simply slid my agenda across the table. He absent-mindedly straightened it out in front of him and kept talking—but within a couple of minutes, it became obvious that he was glancing at it and following the points I had prepared.
As the customer talks, your principal task is to listen intently and stay out of the buyer's way if they're following the right path, or nudge and gently re-direct them when they're veering off. You can use encourages, probes and reflections, all fundamental following skills which you can brush up on here, or if you're not already familiar with, you can pick up with a book or a class on active listening.
The hardest thing to do, especially when the customer is talking non-stop, is to keep the incoming information organized enough to know whether you're getting what you need to accomplish your call purpose. That's where your sales call plan with its prepared question list comes in handy, to help you unobtrusively check off which have been answered. I've also found the Cornell note-taking system to be enormously useful for maintaining situational awareness, and for recording keywords that will allow you to go back and revisit areas that need more attention.
Candidly, most salespeople aren't ready for the ideas in this article, because they still haven't learned how to ask enough good questions. But if you've already reached this stage, you can kick up your skills one more notch by learning how to go beyond questions.