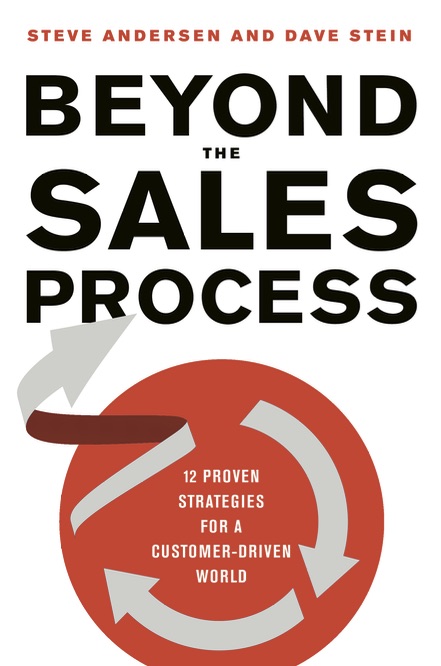 Beyond the Sales Process, by Dave Stein and Steve Andersen, is my kind of book, because it takes a big picture view of B2B sales. Here's the gist: many B2B sellers get in too late and leave too soon. If you engage with potential customers only during their active buying efforts, you're like the drunk looking for his lost keys under the streetlight—just because the light's better there.
Stein and Andersen make the point that even with complex B2B sales, buyers might actively buy from you only about 2% of their total time in a year. Most sales books focus their prescriptions, during that narrow 2% window called the sales process, when the buyer is actively seeking to fill an identified need. The problem with that is that while there is a need, there is also a lot of competition and very little trust.
If you want to achieve the status of trusted advisor, you have to pay attention before, during and after the sales process. They delineate 12 strategies, distributed equally across the entire life cycle, what they call Engage, Win and Grow.
Engage
This is the pre-opportunity phase in which you do in-depth research to understand your customer's business and use the insights gained to earn the right to engage with your customers in elevated discussions about what they need to do to achieve their business objectives, how you will help them do it, and why it's important. I'm vastly oversimplifying here, of course, but the general idea is to put yourself in a position where you can credibly be seen as a potential trusted advisor by the right people in the customer's organization before a specific opportunity comes up. By doing so, you will be in a position to influence and shape their needs and hence their requirements.
Win
This phase is the main focus of approaches that focus on the meat of the sales process: the pursuit of opportunities from identification through the sales funnel to closing. The four chapters in this section will be familiar to anyone who has experience and training in common sales methodologies: they cover the fundamentals of discovering the key drivers that relate to the specific sales opportunity, and how to use those to deliver "actionable awareness," which is a key point that I personally believe many B2B salespeople miss. They know the importance of learning about their customer's business, but most of them use their research to gain data points that they can use to sprinkle in their product pitches to give them a veneer of "customer focus" and business sophistication. Scratch beneath surface, though, and you find they don't truly bring key insights that show how they can uniquely impact the customer's business.
Grow
There are very few feelings as exhilarating as winning that big deal of the year, but you have to resist the temptation to take your eye off the ball at this point. If you keep your attention in the post-sale phase to realizing the value that was promised during the win phase and validate its impact on the customer, adapt to changes and issues as they arise, and expand the relationship, you will have a firm launching pad for all future opportunities that arise.
If you're a sales professional who has already read many of the excellent books that guide you through the sales process, Beyond the Sales Process is an excellent complement that will illuminate the rest of the sales landscape and expand your view of what it takes to raise your game.